Our adult education range of courses, based at our attractive residential centre, provide a wonderful opportunity for those interested in art and history.
Discover Medieval East Anglia
East Anglia has the greatest wealth of medieval buildings of any region in the UK. Our four study tours enable you to step back in time to gain an understanding of the culture that created them. Magnificent cathedrals, tiny chapels, beautiful guildhalls and wool merchants' houses, all have fascinating tales to tell.




Our study tours are led by art historians
Dr Alexander Devine,
Imogen Corrigan FRSA,
Dr Jana
Gajdošová, and Dr Jon Cannon.
**NEW** Medieval Manuscripts in Cambridge, with Dr Alexander Devine (Thursday 30 April to Saturday 2 May 2020)
**NEW** Gargoyles, Grotesques and Green Men, with Imogen Corrigan (Friday 29 to Sunday 31 May 2020)
Medieval Churches, Monasteries & Cathedrals of the Fenlands, with Dr Jana

Gajdošová

(Monday 20 to Wednesday 22 July 2020)
**NEW** A Medieval Pilgrimage, with Dr Jana

Gajdošová

(Friday 28 to Sunday 30 August 2020)
We offer the Friends of the National Churches Trust a discount of 5% from the price of each Discover Medieval East Anglia course.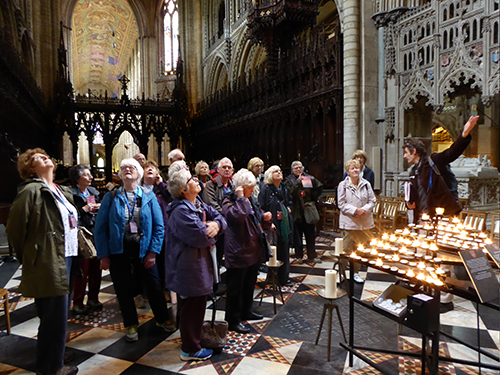 Art and Calligraphy
Our residential calligraphy courses are designed to help learners develop their skills, knowledge and passion for calligraphy, heraldic art and manuscript illumination.
The calligraphy tutorials are suitable for anyone with some previous experience and practice of various historical hands, e.g. the round hand, formal and cursive italic, and gothic blackletter. No previous experience of heraldic art or manuscript illumination is required.
The tutor for these courses is artist and calligrapher Gerald Mynott FSSI.
This is a very popular course - book early to avoid disappointment!
Calligraphy, Heraldic Art & Manuscript Illumination (Friday 21 to Wednesday 26 February 2020. Summer School: Monday 17 to Sunday 23 August 2020)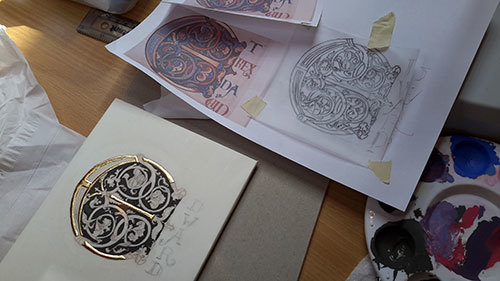 Testimonials
"A great big thank you for another lovely week at Villiers." Calligraphy, 2019
"We are so spoilt, with delicious food, kind and thoughtful staff and a great teacher, Gerald, indulging our passion for calligraphy and illumination. The perfect week." Calligraphy, 2019
"I have to say first of all what a wonderful place Villiers is. Excellent, friendly and efficient staff, good facilities and delicious food. We all agreed that a fortnight's stay would be ideal!" Calligraphy, 2019
"Thank you for everything. It has been a memorable week at Villiers Park. Everybody was welcoming and kind with us." Calligraphy, 2019

"The room was marvellously appointed and so clean. The campus here is beyond expectation." Calligraphy, 2019
"This was my first visit and what a gem of a place Villiers is. Very welcoming staff, friendly and efficient." Calligraphy, 2019
"The food absolutely delightful - by far the best food ever experienced in such a situation." Calligraphy, 2019
"Thought the course was very well organised." Medieval Cambridge
"Gerald's energy and enthusiasm is exceptional." Calligraphy

"A warm, welcoming atmosphere - thank you!" Medieval Churches of the Fenlands
"My first time with you. I thoroughly enjoyed my time and hope to return. All staff friendly, polite and efficient - well done!" Anglo-Saxon course

"Excellent lecture, well illustrated and presented." Anglo-Saxon course
"It was good to have such a welcome. I arrived early after a long, tiring journey but was still very warmly welcomed. There were de-caff tea bags waiting for me in my room - I didn't have to ask. Unprecedented!" Medieval Churches of the Fenlands
"Everyone was so hospitable, displayed lovely spirit in all interactions and made our stay wonderful! Food was superb! Thank you." Centre for Courage and Renewal 2019
Frequently Asked Questions
What is the accommodation like?
We have 28 en-suite bedrooms (single, twin, triple and one disabled access) set across three buildings, many with landscape views. All rooms have a bath and a shower, except the disabled access room which has a shower only. They are cleaned daily and we have complimentary toiletries in each room. Each room also has tea and coffee facilities and a hairdryer. Free Wifi is available throughout the site.
You can read more about accommodation and see photos on our
external hire
page.
Will I be sharing a room?
Unless you request it you will not have to share a room. We have no single supplement costs.
Are all meals included in the price of the course?
Please read the information on each course to confirm this information. Most courses include dinner, bed and breakfast, all entrance fees and guided tours. Lunches are not generally included in the cost (unless otherwise indicated).
Do we have to drive to different venues ourselves?
Our courses are organised so that we travel in a single group. Villiers Park arrange for transport between venues, entrance fees and scheduling of visits so you don't have to worry about getting lost or arranging visits.
Hiring our venue
Our Cambridge Centre is available to hire for organisations seeking either residential or non-residential facilities to host conferences, training days, meetings or events. We can offer accommodation for up to 44 delegates in peaceful surroundings within easy reach of Cambridge and the major roads and rail services within the region.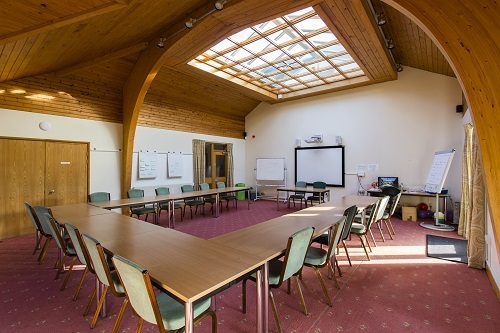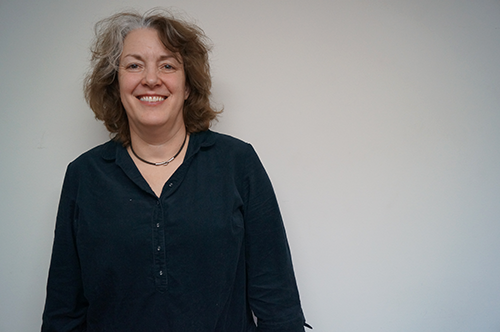 Get in touch
Get in touch
Sarah Lock - Conferences Co-Ordinator
Sarah will be your dedicated events co-ordinator. Please feel free to contact her for further information or to arrange a pre-booking visit.
Contact Sarah
email
telephone
01223 872601

Our Impact
We work with 2,000 young people a year, empowering them to succeed. View our latest stats and learn about the impact of our work.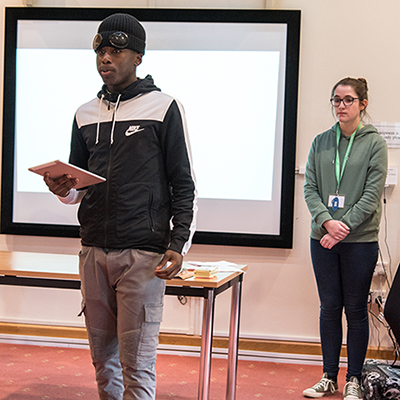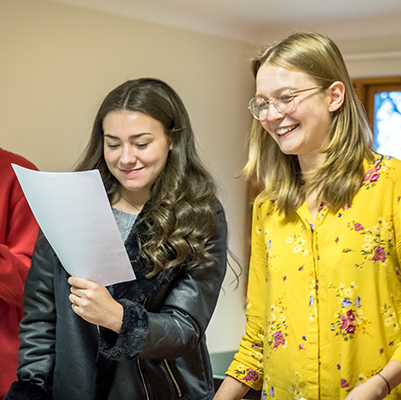 Support us
As a charity, we are reliant on the generosity of others to continue providing our impactful and life-changing work.