Chemistry: Quantum Mechanics to Biocatalysts
This course sets out to inspire and challenge you in a non-competitive environment, mixing with like-minded students from across the UK and tutored by two subject experts.
Participation can be acknowledged under Preparation for HE on your UCAS application form.
Course objectives:
To gain an understanding of why chemical reactions happen.
To explore ideas not covered in AS or A2 in order to obtain a better idea of how different aspects of chemistry are interrelated: this should help link ideas from molecular orbital theory, thermodynamics, kinetics, organic and inorganic chemistry.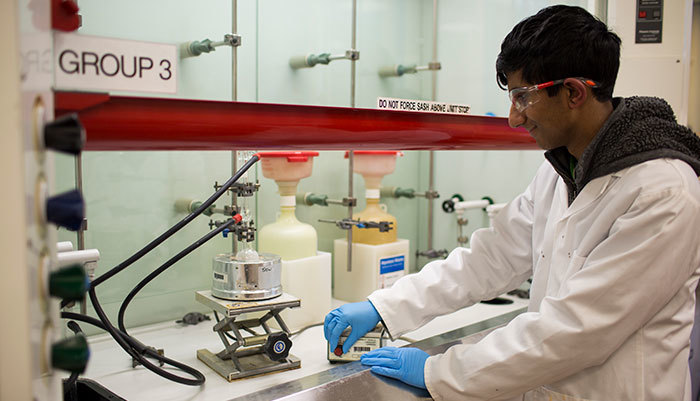 Course dates
11 - 15 December 2019
Course format
Seminars will be interactive and require active student participation and discussion of ideas.
Students will work in small groups to solve questions and present answers to exercises.

There will be the opportunity to do some experimental work in the Department of Chemistry, University of Cambridge, as well as a visit to a local chemical company.

Please note this course runs Wednesday to Sunday.
Tutors
Tom O'Neill read Natural Sciences at Cambridge specialising in Chemistry where he also completed his PhD in Soft Matter Physics, in which he attempted to make new advanced materials using self-assembly of polymers.
Georges Trenins is a PhD student in Theoretical Chemistry at the University of Cambridge where he also studied for his first degree and MSc.
Costs
With thanks to our supporters, the costs of our courses are subsidized. The price of £325 includes accommodation, tutoring, trips and all meals.
Students at fee paying schools will need to pay the full cost of £739.
Student feedback
"The course gave me a greater insight into how the different areas chemistry can be utilized to solve a single problem. It also helped show me how my chemistry skills could be used in the workplace in the future."
"The residential trip is a really good introduction to chemistry at university. The lectures gave an insight into new content that was mentally challenging but thoroughly enjoyable."
Applications closing date
Still open for applications
What's it like staying with us
on a residential course?
Apply now to secure your space on the course.