English Literature: Exploring Shakespeare
'We know what we are, but know not what we may be.' Develop critical skills in approaching literature, drama and critical theory and explore the historical contexts that shaped Shakespeare's work.
Course objectives:
To introduce students to a representative range of Shakespearean poems and plays
To help students develop critical skills in approaching literature, drama and critical theory
To explore the historical contexts and texts that shaped Shakespeare's works
To complete a small scale research project by the end of the week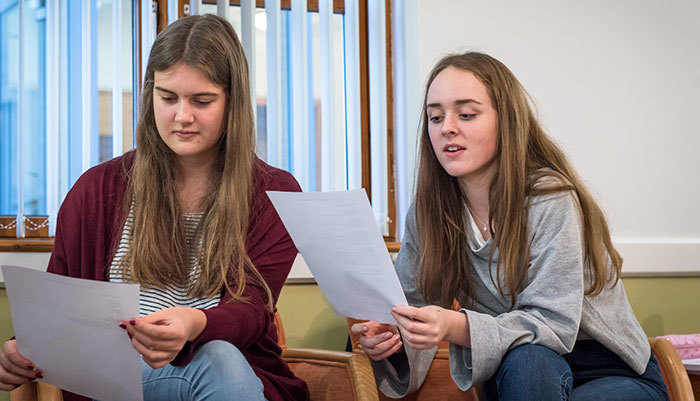 Course dates
1 - 5 July 2019
Course format
Seminars requiring prior reading and preparation, similar to university study
A range of talks and presentations
A central component will be student group work and practical participation in seminars throughout the week

Tutors
Anne-Marie Evans is a lecturer in English Literature at York St John University. She specialises in American Literature and has a vast experience of teaching Shakespeare at the University of Sheffield, University of Huddersfield and UCLan.
Tom Dymond has also taught at the University of Sheffield. He specialises in Contemporary British Theatre and has lectured and taught on courses including Early Modern Literature, Shakespeare and British Theatre.
Costs
With thanks to our supporters, the costs of our courses are subsidized. The price of £325 includes accommodation, tutoring, trips and all meals.
Students at fee paying schools will need to pay the full cost of £817.
Student feedback
"Immediately, the course gave me a far better grounding for my A-Level studies of Shakespeare but more importantly, it showed admissions tutors that I was passionate enough about my subject to spend five days intensively studying it."
"The residential provided an intensive yet enjoyable taster of education at university level. Not only did it encourage me to use my own initiative to expand my knowledge beyond the constraints of exam specifications, it also elevated my self confidence immensely. It was an amazing experience which I am very grateful to have been part of."
Applications closing date
6 May 2019
Course details
Course flyer to follow
What's it like staying with us
on a residential course?
Apply now to secure your space on the course.