Your introduction to forensic science as a discipline and profession, learn about the biological and chemical methods used in forensic studies and explore topics such as forensic pathology, blood pattern analysis and forensic psychiatry.
Course objectives:
To inform students on how biological and chemical methods are used in forensic studies
To introduce students to forensic science as a discipline and a profession
To encourage and motivate students to develop their own knowledge, skills and interest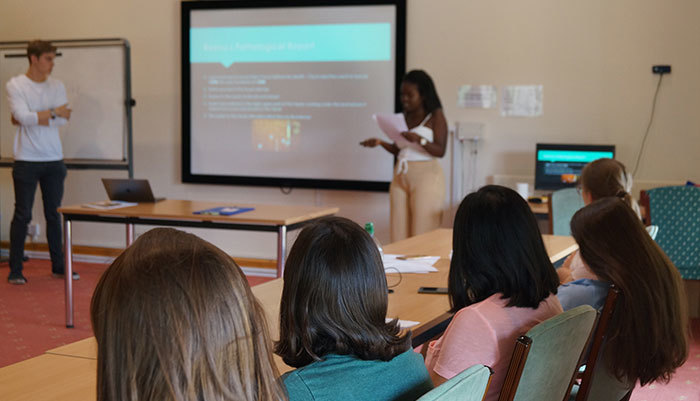 Course dates
15 - 19 July 2019
Course format
Forensics or forensic science is the application of various sciences to answer questions relating to examination and comparison of biological evidence, toxicology, drugs and firearms.
This course will be suitable for any student studying AS/A2 Biology and/or Chemistry interested in Forensic Science.
The course will be delivered using a variety of methods including interactive lectures, practical experimental work, group discussion, case studies, debates and presentations.

Tutors
Guy Sutton is Honorary Lecturer in Neuroscience at the University of Nottingham Medical School and Director of Medical Biology Interactive. In addition to undergraduate lecturing in functional and behavioural neuroscience, he teaches postgraduate molecular oncology and clinical psychiatry.
We are in the process of appointing a second tutor for this course.
Costs
With thanks to our supporters, the costs of our courses are subsidized. The price of £325 includes accommodation, tutoring, trips and all meals.
Students at fee paying schools will need to pay the full cost of £817.
Costs
"Dr Sutton's lectures were fascinating and it was a demanding but intriguing week. I really do believe I enriched my knowledge and understanding of forensics."
"I really enjoyed the seminars and structure of the teaching methods as it gave me an idea about what learning at university will be like. The tutors were so passionate and had such a detailed knowledge, it made their seminars really inspirational."
Applications closing date
20 May 2019
Course details
Course flyer to follow.
What's it like staying with us
on a residential course?
Apply now to secure your space on the course.