Neuroscience: Understanding the Brain
An introduction to the mechanisms of drug action and the structure and function of the brain and central nervous system. You will consider methods of studying the brain. It will be of particular use and interest to those students intending to read Neuroscience, Medicine, Psychology or Biological Science at university.
Course objectives:
To introduce students to areas such as the mechanisms of drug action and the structure and function of the brain and central nervous system
To consider methods of studying the brain; neuroimaging; pain; memory neurobiology and amnesia; language disorders and the effects of brain damage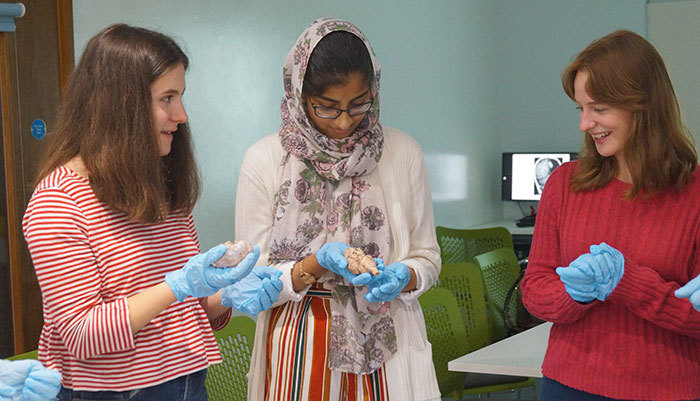 Course dates
9 - 13 September 2019
Course format
The course will be delivered using a variety of methods, including lectures, presentations, class discussions, experimental work and computer-based sessions using specially written software.
In addition, there will be a guest speaker and the opportunity to visit a brain imaging centre.

Tutors
Guy Sutton is Director of Medical Biology Interactive (MBI) and an Honorary Lecturer in Neuroscience at the University of Nottingham Medical School. He completed his first degree and PhD at the University of Cambridge.
We are in the process of recruiting a second tutor for this course.
Costs
With thanks to our supporters, the costs of our courses are subsidized. The price of £325 includes accommodation, tutoring, trips and all meals.
Students at fee paying schools will need to pay the full cost of £739.
Student feedback
"I found the course really interesting and thoroughly enjoyed the opportunity to explore this subject at a higher level. Villiers Park was invaluable to me in terms of using it for my personal statement and at interviews and it gave me huge confidence because I was able to talk confidently and passionately about a complex academic subject."
"It created an environment where passion for academics was not only accepted but encouraged. It allowed me to develop skills like research and public speaking; things I don't have time to work on at school. It also gave a great insight into Neuroscience and made me excited for further education."
Applications closing date
Still open for applications
What's it like staying with us
on a residential course?
Apply now to secure your space on the course.