Aspiring future STEM professionals join dedicated industry-focused Scholars programme
06-11-2018
2020 Stem Conference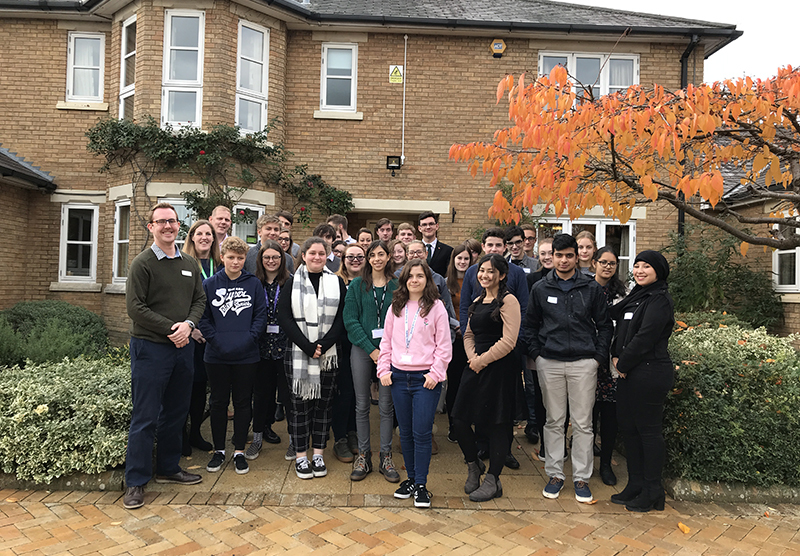 Thirty-one STEM-loving students from Cambridgeshire and Bedford kick-started this year's 2020 STEM Scholars Programme experience with a day of activities that included paper aeroplanes and brain dissection.
The Programme, targeted at students from less advantaged backgrounds and high academic STEM potential has been running for four years thanks to funding from international computer science company Arm who are based in Cambridge.
The conference day was held at Villiers Park, so the new recruits - all Year 12 students - could learn more about the Programme, what their involvement will be and how it'll benefit them.
Programme partners Smallpeice Trust and Arkwright Engineering Scholarships Trust gave talks about their involvement, and a trio from funders Arm held an informal 'ask a computer scientist any question' session, giving the students the chance to ask about qualifications, university and industry careers.
After lunch, Villiers Park tutors held masterclasses - mathematicians and physics students learnt about forces involved in flight by experimenting with paper aeroplanes with Dr Sean Elvidge, and biology and neuroscience students watched a sheep's brain dissection with Dr Guy Sutton.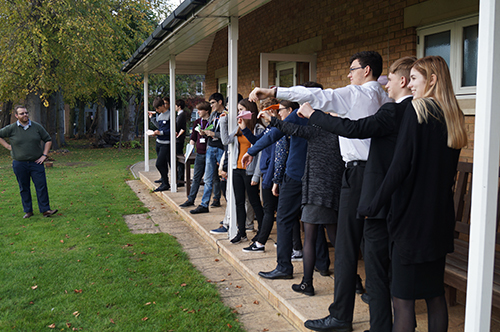 One major part of the Programme is the delivery of an INVOLVE project - an extra-curricular society, group or event that the students will create, develop and manage for their peers. The students had a talk from charity Founders4Schools on utilising work experience and how they might run an employer interaction based project. They then took part in a workshop to draft ideas and concepts for their project, with support from a group of Year 13 students from Mark Rutherford School, Amy, Sarita, Freya and Holly, who became Scholars last academic year, running a hugely successful science club - Smarties - in their school.
"It's been really nice to see the ideas they've come up with, to talk to them, and for us to share our success with people and also be able to say 'do it like this and it'll be so much easier'," said Sarita.
The girls found the new Scholars were keen to ask them questions about life on the Programme.
"I think because they're not having it from a teacher's perspective - we've actually been through it so we could give them a different insight", said Holly.
"I feel like they asked us more questions because we'd gone through it," added Freya. "They could ask us 'is it worth it' and we all said 'yes, it really is worth it'."
"Everyone in the room only knew who they came with, there's lots of different people in there, and it's a brand new environment - everyone is nervous and we could say 'don't be nervous, it's fine'," said Sarita. "As soon as they stopped being embarrassed you saw the amazing ideas they came up with - I thought, I'd go to your clubs they sound great!"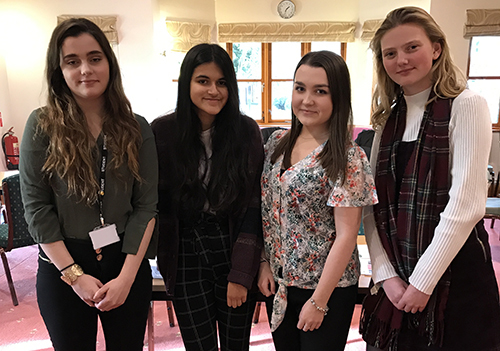 Mark Rutherford's Smarties and 2020 Stem Scholars, Freya, Amy, Holly and Sarita
The girls, now all applying for university and making future plans, including biology degrees, conservation projects and careers in forensic science, said they've all gained so much by being a 2020 STEM Scholar.
"It takes up a huge amount of your personal statement," said Sarita. "You want to write about it all because it's such a good experience - trying to fit it into 4,000 characters is ridiculously hard."
"I before didn't get involved in that much extracurricular stuff, but it's been really fun doing it and growing from it in different ways," said Amy.
Throughout the year, the students, from eleven schools in the region, will:
Attend an Inspiring Excellence residential course at Villiers Park

Run an INVOLVE project in their school

Benefit from e-mentoring

Access STEM related work experience opportunities through Founders4School's Workfinder app
As well as students, teachers from the participating schools joined the conference. They spent time with the INVOLVE team and the Smarties learning more about INVOLVE and how they can play a supportive role with projects, they had a subject development workshops with Guy and Sean to explore new areas of scientific knowledge that can be taken back to the classroom, and spent an hour with Moira Sheehan, Advisory Service Programme Director, on how to support the very able in school.
Matt Diston is the programme director. He said: "The enthusiasm from our new Scholars today was fantastic. Despite being brand new to the Programme, they engaged brilliantly with Villiers Park and all our partners, as well as academic and practical science activities. The ideas put forward for INVOLVE projects were impressive, and we're really excited about supporting these Scholars as they develop and deliver them in their own school communities over the coming academic year."
Our Impact
We work with 2,000 young people a year, empowering them to succeed. View our latest stats and learn about the impact of our work.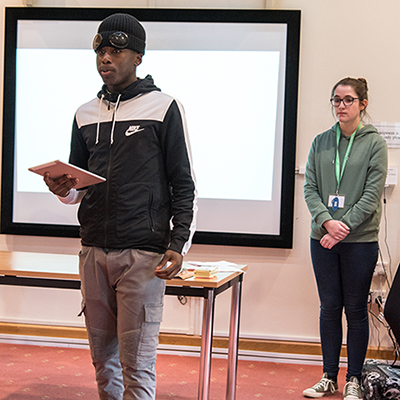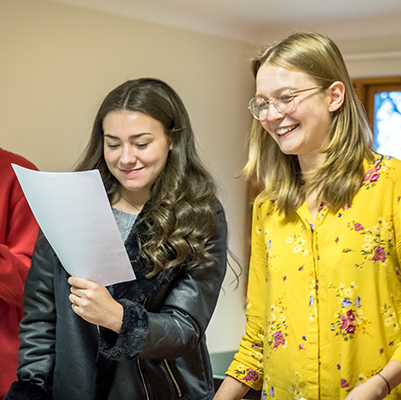 Support us
As a charity, we are reliant on the generosity of others to continue providing our impactful and life-changing work.