"Being a Scholar has changed my life"
29-01-2019
By his own admission, Ethan used to sit at the back of the classroom, where he hoped to fade into the furniture. Now in his final year on the Norfolk Scholars Programme, life couldn't be more different...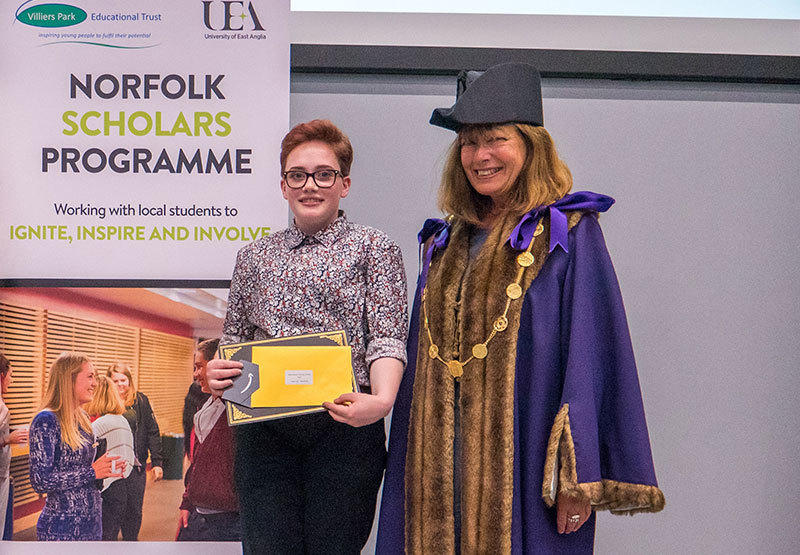 Three years ago, Ethan wouldn't have said boo to a goose.
He knew he wanted to change and grow his confidence, but he didn't know how. So that's where his sessions with learning mentor, Carrie, began.
"She said, 'we're going to break this down, start small, and work our way up'. It seems so obvious but I'd not thought about it like that before," he explained.
Together, Ethan and Carrie, who met for an hour during school time every three weeks, tackled other complementary skills he said he'd never have thought about - such as risk taking and resilience. Slowly, his confidence started to grow. Then came, in his words, the breakthrough moment.
In May, Ethan travelled to Foxton for his Neuroscience Inspiring Excellence course. At the end of a week of lectures on topics such as 'Brain Cells, Neurons and Neurotransmission' and a trip to the Medical Research Council Cognition and Brain Sciences Unit in Cambridge, the students had to give presentations in groups.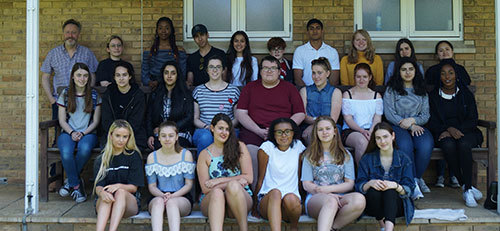 Ethan (centre of back row) with fellow students at the Neuroscience Inspiring Excellence course
"I was dreading it," he recalls. "When I was rehearsing I would shut down, and I thought 'I've backtracked, I've gone back to who I was before'. But that's where Villiers Park makes all the difference. It was such a good, supportive environment and everyone was cheering me on. I knew I needed to do this and I felt supported in doing so."
After that, he knew the next step was a bigger audience; another challenge. And so - to SPECTRUM. Ethan's INVOLVE project - where a student creates, develops and runs an enrichment activity in their school - tackled a gap in provision he'd noticed at Thetford Academy.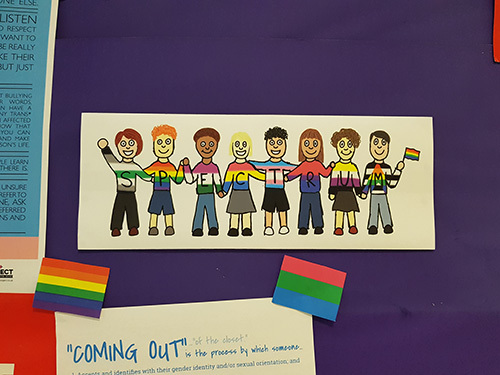 "SPECTRUM is an LGBTQ+ youth group. I wanted to create an environment that I felt was missing in the academy; a safe space, a judgement free zone, where people were free to ask questions."
Just before summer, Ethan and two peers who'd helped establish and promote the group, found themselves waiting for the first arrivals.
"It was really tense," he said. "Five minutes went by, then ten. Nobody was there. Then in walked a whole group of people. It was such a relief!"
Ethan can see it's working.
"We had only had three sessions and I could already see people coming out of their shells. As I've been through the same thing, I can relate and I am so proud of them - and proud of myself that I've provided that space."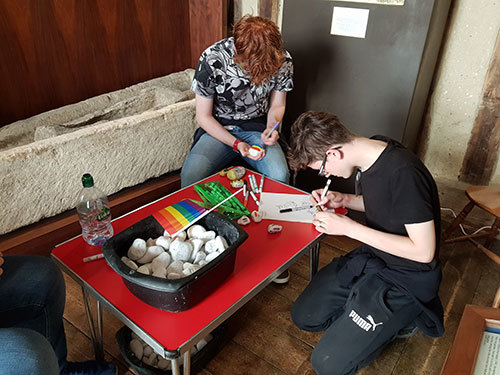 The benefits of being a Scholar have extended beyond Ethan's personal development; it's given him clarity and direction with his future career too. Prior to his Inspiring Excellence course, Ethan thought he'd apply to study psychology at university. But the research he and his course mates carried out while in Foxton encouraged him to do more.
"I realised I'm more interested in animals - specifically, the neuroscience of animals," he said. "'I'm going to study Zoology.
And he knows how to get there. He's taking biology, chemistry and psychology A-levels and has found the support from his learning mentor with time management, problem solving and helpful tips such as making revision timetables, have ensured he has enough time to focus on his studies - as well as everything else.
"My experience as a Villiers Park Scholar has changed my life, and although it may sound cliché, that is a fact," he concluded. "It's been one of the most, if not THE most useful experiences of my life so far. I've had so many opportunities that have had a large impact on my life, and who I am as a person - and I've managed to work on the biggest thing for me which is my confidence"
And he confirmed he now would say boo to a goose. With confidence
Our Impact
We work with 2,000 young people a year, empowering them to succeed. View our latest stats and learn about the impact of our work.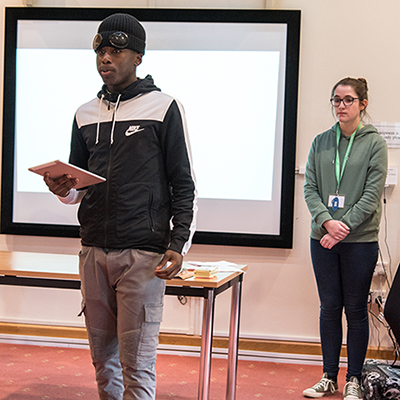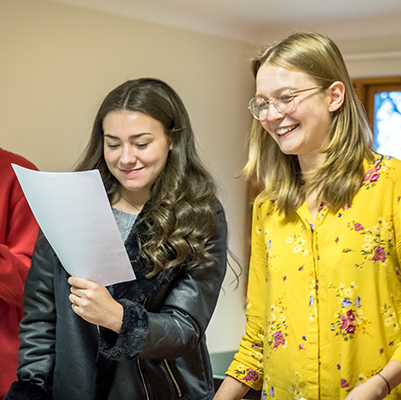 Support us
As a charity, we are reliant on the generosity of others to continue providing our impactful and life-changing work.