Chairman of Essex County Council backs launch of educational programme described as 'life-changing
18-10-2018
The chairman of Essex County Council says he 'fully supports' Inspire2INVOLVE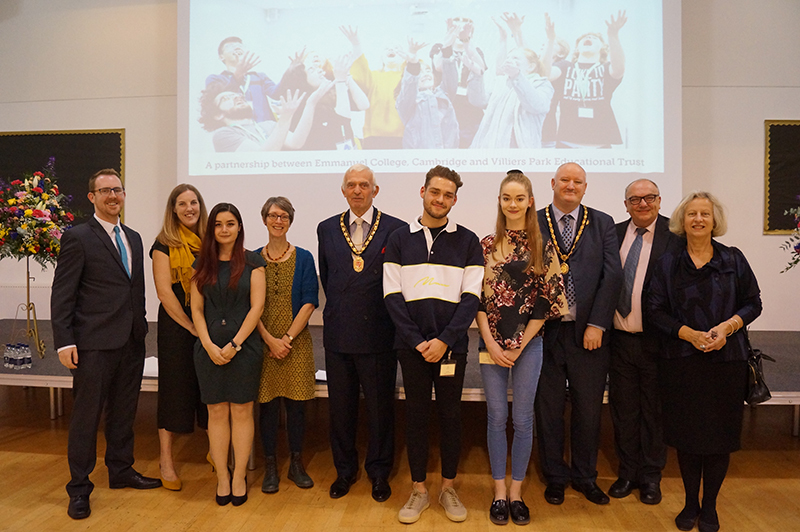 The Chairman of Essex County Council said he 'fully supports'
Inspire2INVOLVE
, launched last night in four Essex schools to improve educational opportunities for students - a programme described as 'life-changing' by those who took part last year.
Councillor John Jowers was speaking at the launch event of Inspire2INVOLVE, a programme run by social mobility charity Villiers Park Educational Trust and Emmanuel College, University of Cambridge, held at Basildon Lower Academy. His comments were echoed by the council's Deputy Cabinet Member for Education, Councillor Tony Ball, and the Deputy Mayor of Basildon, Daniel Lawrence.
Twenty Year 12 students from the county will start Inspire2INVOLVE, which develops key academic and personal skills through activities including a residential course in Cambridge and the creation and leadership of enrichment activities in their schools.
The programme aims to tackle inequality experienced by high-ability young people from less advantaged backgrounds - such as being the first in their family to attend university or those who receive free school meals. Typically, this group will under-achieve in their GCSEs and A-Levels when compared to those with an equal ability but from more privileged backgrounds, impacting on future opportunities or access to universities or apprenticeships.
"This programme is giving a chance to amazingly talented young people who get overlooked," said Cllr Jowers. "Typically, these people swim through the net, but by doing this programme they are given an opportunity to qualify and be empowered to do that they like. It's the sort of thing government bodies ought to do."
The evening included talks from Beauchamp High School Year 13 students Ollie Broderick-Basar, 17, and Francesca Mann, 17, both from Wickford, who took part in the programme last year. The pair gave presentations to both students and their parents, explaining the value of the programme and how it had boosted their confidence and numerous other skills.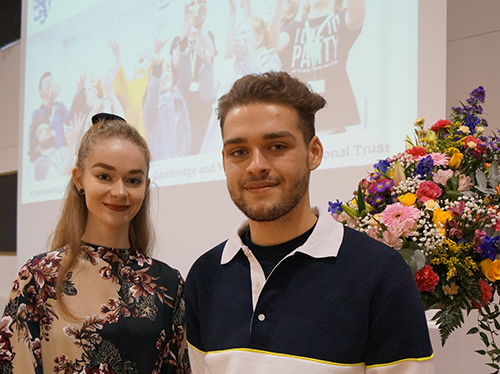 "It's incredible. Life-changing," said Francesca. "It's allowed me to develop so many skills that I wouldn't have had the opportunity to do elsewhere. I am truly thankful for the programme and my advice to the new recruits tonight is simply: do it, take it all."
Ollie, who has just sent his early entry application to study medicine at university, agreed.
"The programme has put me in a much better position for university - it made my application stand out so much more," he said. "It's a once in a lifetime opportunity, it's a clean slate from school and it makes you see that nothing is holding you back."
With over half of parliamentary constituencies in Essex having low or very low social mobility, Cllr Tony Ball, Deputy Cabinet member for Education, said he would encourage all schools in Essex to consider the project.
"I am very impressed with the opportunities that this offers young people living in Essex especially having heard from the young people who have benefitted from it," he said.
In the county, only 16% of children eligible for free school meals in the county enter higher education by the age of 19, compared to a national average of 24%*.
The Deputy Mayor of Basildon, Daniel Lawrence BEM, described the project as 'amazing'.
"I'm delighted to see such an amazing projected for young people, that will inspire their education," he said.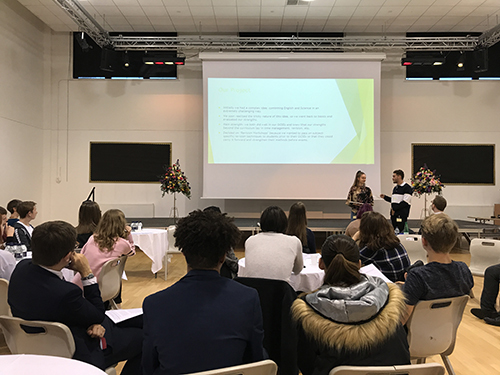 Daisy Rouse and Liviu Verman, two Year 12 students from Basildon Academies, will start the programme this year.
"It sounds like such a good opportunity for us planning on going to university - even though you come from a family that no one else goes to university or thinks about it," said Daisy "It all sounds brilliant."
"It's a huge opportunity," agreed Liviu. "I feel like it's going to open a lot of doors to me."
Emmanuel College fund the programme, as part of the university's area Link Scheme, which pairs Cambridge University colleges with local authority regions.
Dr Corinna Russell, Emmanuel College Fellow and Inspire2INVOLVE lead, said: "This evening was a fantastic opportunity to meet the students, and to begin to get a sense of their motivation and excitement at the start of their educational adventure. It was incredibly rewarding to chat to people in the room, and hear the story of a prospective engineer and his love of aircraft, or of the future maths teacher who has been helping her brothers and sisters with their homework. These are young people with an extraordinary amount to offer, and it was great to be there to see the good will that their families, schools and local community are investing in this partnership, too."
"We're hugely excited about working with these students over the coming year. Even in the space of a few hours, it was wonderful to get a sense of the interests, motivations and ambitions that they carry," said Matt Diston, Assistant Programme Director at Villiers Park.
"The schools have done a fantastic job, identifying students with enormous potential, and the parental and community support on display this evening further underlines how seriously we all take supporting them to fulfil that potential."
Our Impact
We work with 2,000 young people a year, empowering them to succeed. View our latest stats and learn about the impact of our work.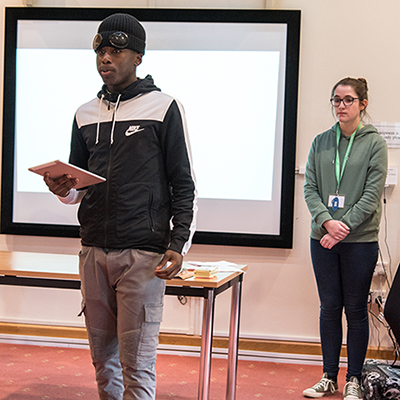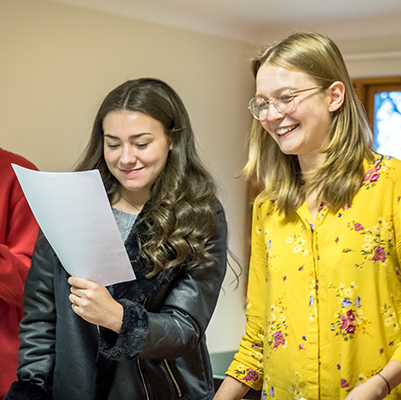 Support us
As a charity, we are reliant on the generosity of others to continue providing our impactful and life-changing work.