Forty-five Scholars set sights on early entry places
01-11-2018
How we're supporting those setting their sights on the toughest university spaces to secure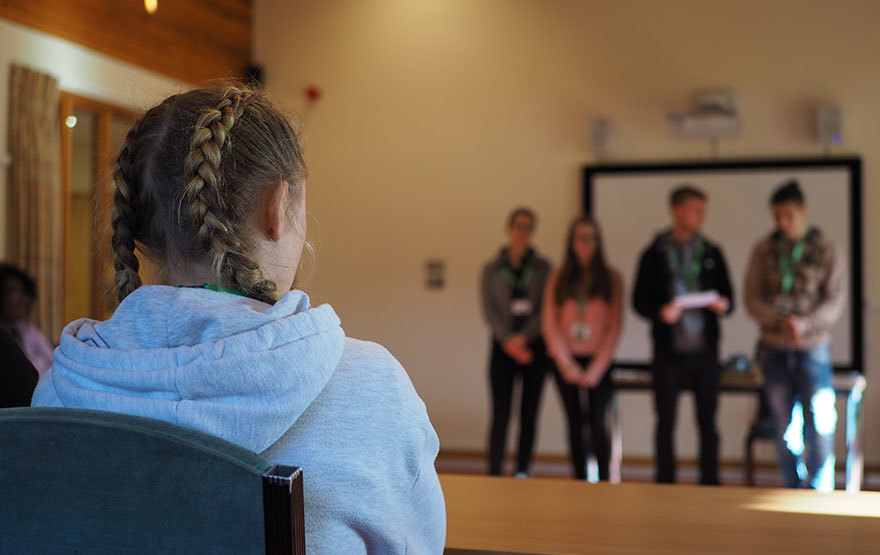 Remember remember the 15th October... as the famous poem doesn't go. This date is, however, when all students wishing to apply for Oxbridge or to study medicine, veterinary medicine and dentistry at university need to submit their applications - three months ahead of the deadline for all other courses.
The early deadline isn't the only pressure; these applications are for extremely competitive places and will require an intensive interview process too. In addition, they're for institutions where typically students from a less-advantaged background are far less successful when it comes to securing a space.
Since the start of the year, we've been supporting
our Scholars
across the country who'd set their sights on an early entry spot. In total, 17 of our Scholars have applied for University of Oxford and eight have applied for the University of Cambridge - for courses including History, Civil Engineering, Biomedical Science and Maths. In addition, 16 Scholars have submitted applications for medicine, three for veterinary medicine and one for dentistry.
One of them was Rebecca Smith, one of our Tyneside STEM Scholars who applied to study medicine at Newcastle, Manchester, York and Hull. She's wanted to be a doctor for a long time - specifically working in A&E.
Rebecca joined thirteen other students who travelled to Foxton in July for our first 'Preparation for Competitive Entry Course'. Held at the start of the summer and run by education programme director Moira Sheehan, the two-day course included support and critique to help the students develop their personal statement, a subject-specific interview with a specialist interviewer and observer, a challenging task with limited preparation and one-to-one feedback sessions.
"It was so useful," said Rebecca. "I had no idea what a medicine interview would be like, so now with the feedback I've received I would know what to expect and how to approach an interview. It was also great to work with other people applying for similar courses."
As well as the course, our Scholars have received comprehensive support through one-to-one mentoring, attendance to workshops for help with interview techniques, and continued support from Moira with their personal statements.
In addition, all of our programmes are focused on development of skills and access to opportunities that make applicants stand out. For example, through the running of
INVOLVE projects
in their schools or attendance to our Inspiring Excellence courses, students have been developing their skills and managing work that will serve to impress.
Georgina Dunkinson, from Norwich, studied our Neuroscience
Inspiring Excellence course
last year and has just started her first term at University of Cambridge, studying medicine. She says her experience played a vital role in her application.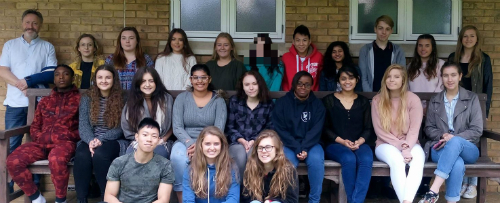 Georgina (back row, far right) with students on the Neuroscience Inspiring Excellence course
"I am not convinced I would be here without Villiers Park," she said. "It helped me so significantly in interviews that I would hate to think what would have happened if I hadn't gone."
The most useful element for Georgia was that she was able to confidently talk about an area of medicine at a high level.
"One of the most important things when applying to a course at university is showing that you love the subject you're applying for - and I was able to discuss it with enthusiasm. Interviews are really daunting and you never know what they will ask you but this experience always provided me with something to say, whether that was a unique bit of knowledge on neural pathways in the brain or my experience working in a team."
Hopefully Noah Palombo, a Hastings & Bexhill Scholar, will be following Georgina's footsteps. He's applied to study Natural Sciences at University of Cambridge, and also attended the 'Preparation for Competitive Entry Course'. In addition, Moira has continued to support him with his personal statement and he's attended workshops ran by Oxfizz, a not-for-profit organisation supporting students with Oxbridge applications - including a mock interview day.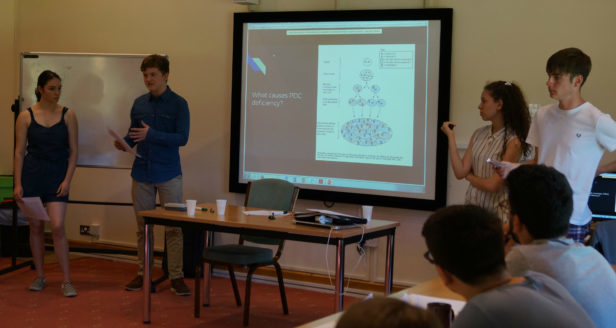 Noah (far right) presenting during the Medicinal Chemistry Inspiring Excellence course last year
"Villiers Park have guided me in so many ways," he said. "Thanks to this help my attitude towards applying for a top university has really changed as I now feel that Cambridge is accessible to me." Rebecca agrees that the process - albeit challenging - was doable with the help of Villiers Park and her teachers. Despite the fact that only 16% of doctors were educated at comprehensive schools (61% from independent and 22% grammar schools), she remains optimistic about her application.
"Universities do get a lot of criticism for not accepting a variety of students from different backgrounds so hopefully they are starting to broaden the range of students they accept," she said.
Out of our programme attendees, seven Inspiring Excellence graduates from less-advantaged backgrounds are at Cambridge this year and two have started at Oxford, who also award spaces to two of our Scholars. We share Rebecca's optimism that we can see those figure rise in 2019.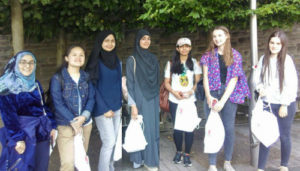 Swindon Scholars visiting University of Oxford Medical Sciences Teaching Centre to discover what life as a medical student might involve
"It's fantastic that so many of the students we work with have gained places at some of the most competitive institutions in the UK, providing compelling evidence that with the right support, students can access top institutions regardless of background," said Sarah Chick, Director of Education at Villiers Park.
"Through our university partnerships, including those with several Cambridge Colleges we are able to offer unique support packages and it is truly heartening to see this input paying dividends. I look forward to hearing the outcome for this year's cohort."
We'll leave the last word to Rebecca, who now begins the wait to see if she's secured an interview, before the final offers are awarded in the New Year.
"To get accepted would be unbelievable and the biggest accomplishment I have ever achieved," she said. "I can't find the words to say how happy I would be!"
Our Impact
We work with 2,000 young people a year, empowering them to succeed. View our latest stats and learn about the impact of our work.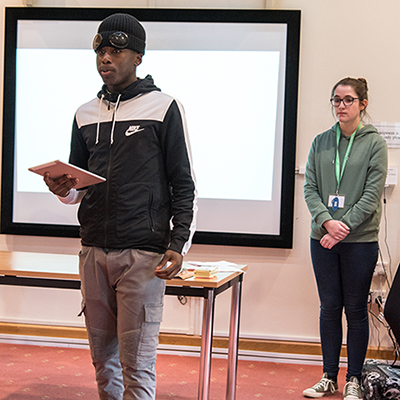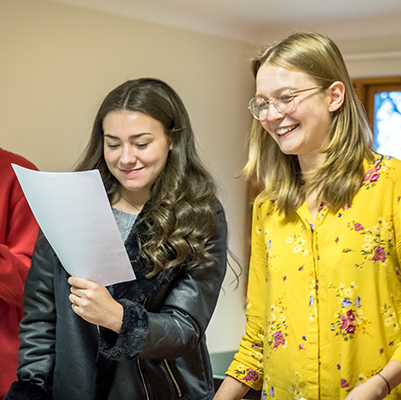 Support us
As a charity, we are reliant on the generosity of others to continue providing our impactful and life-changing work.