"Villiers Park has definitely helped me do better than I ever thought possible."
08-02-2019
Noah Palombo is one of six Scholars who have been made an offer to study at Oxbridge. He reflects on how the support he received from Villiers Park helped him achieve his goal: to study Natural Sciences at University of Cambridge.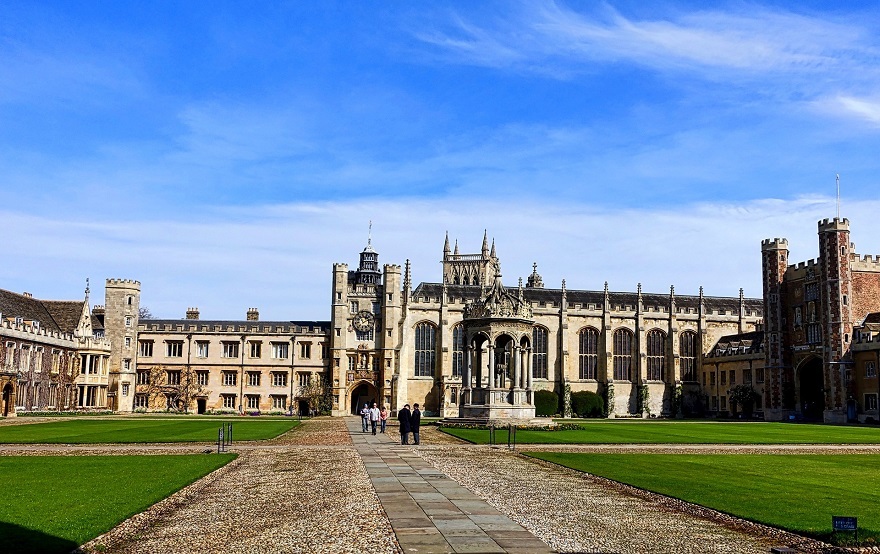 Nearly one in four Villiers Park Scholars who applied to study at Oxbridge have secured an offer.
Students from less-advantaged backgrounds are far less likely to secure Oxbridge places - already highly competitive thanks to the 40,000 applicants chasing 10,000 places.
To help address this barrier, the Scholars received specialist mentoring throughout the process, with some attending our 'Preparation for Early Entry course' to help them navigate the notoriously difficult process. Once interviews were set, students were offered additional support such as mock interviews.
Three months on and we're delighted to report that six students have received offers from the Universities of Cambridge and Oxford.
One of them, Noah Palombo, is from Hastings. Noah, who participated in the Early Entry course at Villiers Park and attended a mock interview day held by our partner Oxfizz, was able to refer to information he learnt during his
Inspiring Excellence course
in his admissions interview.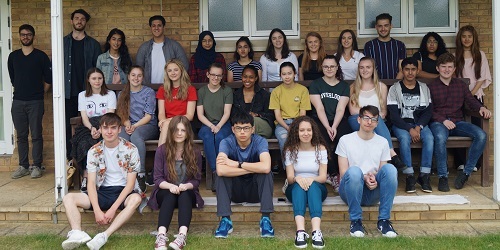 Noah, (front row, far left) with fellow Medicinal Chemistry Inspiring Excellence students last year
He said he couldn't believe his luck when he was asked about drug development, exactly what he learned on his Inspiring Excellence Medicinal Chemistry course at Villiers Park.
"It was the perfect question!" Noah laughs, "I knew exactly what to say because I'd learnt it on the Inspiring Excellence Programme last summer. If I hadn't done that course it would have taken me a lot longer to get to the answer. I wouldn't have been so confident."
Noah is now reaping the rewards of his hard work, with an offer to read Natural Sciences at Homerton College. He can't quite believe it.
"If you had said I would get an offer to Cambridge, I would not have thought it was possible," he says. "I didn't know anyone who had gone from Hastings. I thought it was a prestigious thing and you had to be very well off.
"Villiers Park has definitely helped me do better than I ever thought possible."
Eighteen-year-old Noah had more than his fair share to cope with during his GCSE years. His mum died when he was in Year 10, his aunt the following year.
"Villiers Park didn't just help me with my studies, but also with how to clear my head. I had a mentor who was really helpful. He listened to me and advised me on ways to cope with stress and how not to overwork myself."
Noah now lives with his aunt and uncle. So how did they react to his acceptance letter from Cambridge?
"They were really happy. They've always said they're proud of me, but they were immensely proud of this achievement. We had a celebration and ordered pizza!"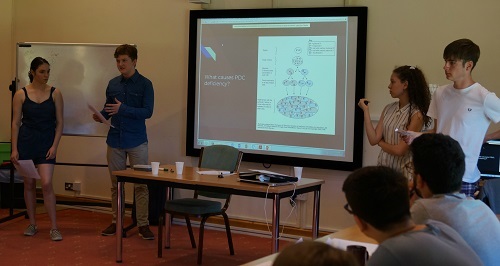 Noah presenting during his Medicinal Chemistry course.
In addition to the Oxbridge applicants, a further 20 students applied for early entry courses such as medicine and veterinary science. It will be March before we know the final outcome these applications, but with two students on our Swindon Scholars Programme already in receipt of offers to study medicine, optimism is high for more positive news.
"Like Noah's Aunt and Uncle I am immensely proud of his achievement, along with the achievements of all our students," said Rae Tooth, Chief Executive of Villiers Park Educational Trust.
"We are committed to ensuring that the young people we work with are not hindered by their life experiences and background. At Villiers Park we believe that all young people should be given the opportunity to engage with learning and carve out their own futures, not because of the family they are born into, but based on their ability and passions.
"Noah and his peers are going to be the leaders of tomorrow. I am so excited by this."
Our Impact
We work with 2,000 young people a year, empowering them to succeed. View our latest stats and learn about the impact of our work.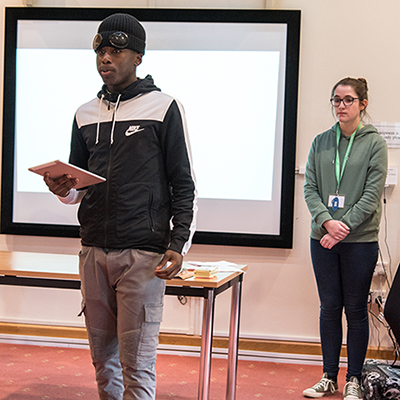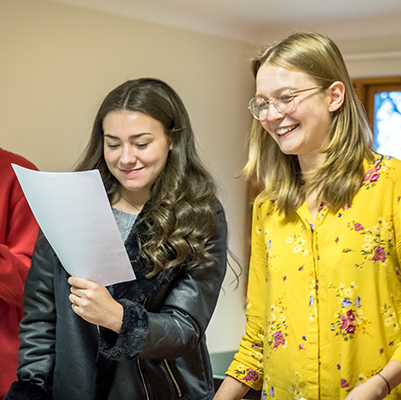 Support us
As a charity, we are reliant on the generosity of others to continue providing our impactful and life-changing work.