What makes a Villiers Park tutor?
01-11-2018
An interview with Programme Director, Deborah Richardson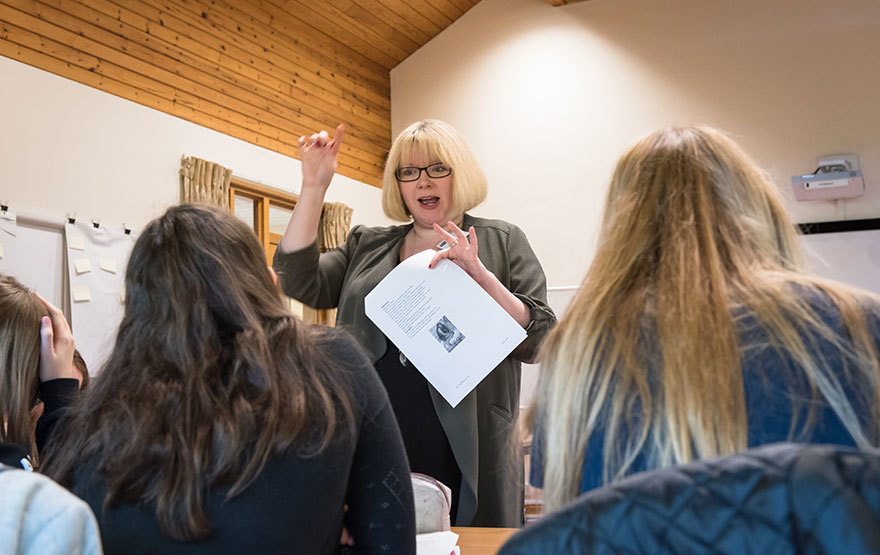 For twenty-five weeks of the year, our Foxton campus is taken over by up to 35 sixth form students attending an Inspiring Excellence course. These five day courses in subjects ranging from forensic science to creative writing allow students to embed themselves in their favourite subject, taught at an undergraduate level in a university style, with like-minded students from across the UK.
Underpinning those courses is our team of 50 tutors, who travel from across the UK, Europe and even America to teach. But who are they? Cue Deborah Richardson, Inspiring Excellence Programme Director to tell us more...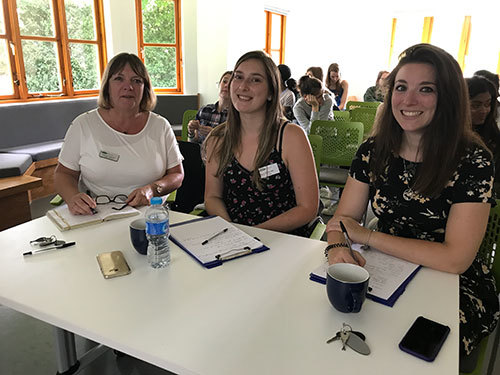 Deborah with biology Inspiring Excellence tutors Ellen and Rebecca
What do you look for in a tutor?

Our tutors ideally have a PhD or at least a degree in their specialist subject - many return once they're lecturing or doing post-doc research. They must have enthusiasm and passion for their subject and an ability to communicate this, and engage with young people. I like them to have a good understanding of our ethos and the type of young people we work with, and I look for a spark of liveliness and good sense of humour, too!
What makes a Villiers Park tutor so good?
The very best tutors we have plan well and teach using a variety of methodology. Students can expect to be introduced to challenging and exciting topics usually taught at first or second year undergraduate level and they will be encouraged to participate in group work, discussions and debates. In addition, our tutors stay behind after sessions and in their free time to answer student's questions about the subject, applying to university, personal statements, job prospects etc, and give one-to-one support and advice.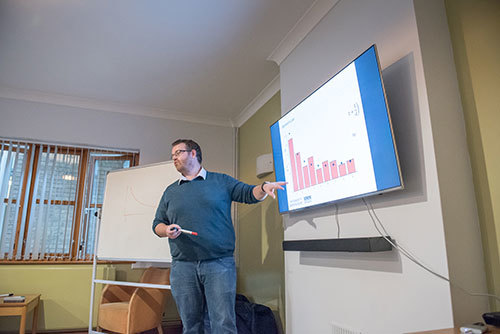 Sean, tutoring on the Physics Inspiring Excellence course
How involved are our tutors in the content of the course and deciding how it's taught?

The tutors completely design the course content to reflect their specialisms - along with the subjects currently being taught at undergraduate level and any new and exciting research - so it's always cutting edge and fresh. We provide a methodology booklet and advise and discuss ways in which the sessions can be delivered to maximise the benefits for the students. During the course, my colleague Sally or I sit in on sessions, particularly with new tutors, to see how they are coping and where necessary, make suggestions for improvement.
Our tutors travel from far and wide, why do you think this is - and why do so many return year on year?
We are lucky that we have loyal tutors who are committed to our courses - this year, over 30 who taught last year (and some for many more than that!) will be teaching again. I've just confirmed Mohammad Usman, one of our economics tutors, who has just completed his PhD and secured a job in the USA. He asked if we could still have him back, as he enjoys working with the students and feels he gains so much from the opportunity too - of course, we've said yes!
Overall, tutoring on our courses is a unique opportunity to work with twenty or more young people who are enthusiastic about their subject and really want to learn. Many of our tutors say they get a better response from our students than they do first year students! It also helps them to develop their own skills and teach in a safe and supportive environment. Plus, they have an affinity with our mission and share our drive to empower and inspire young people to succeed.
Find out more about our
upcoming Inspiring Excellence courses
.
Our Impact
We work with 2,000 young people a year, empowering them to succeed. View our latest stats and learn about the impact of our work.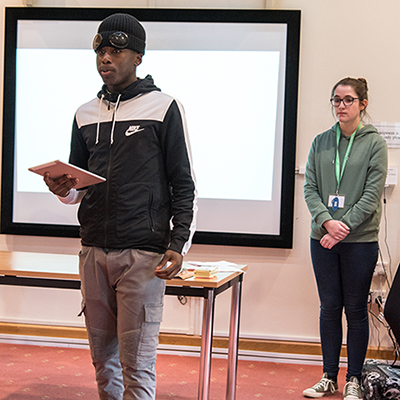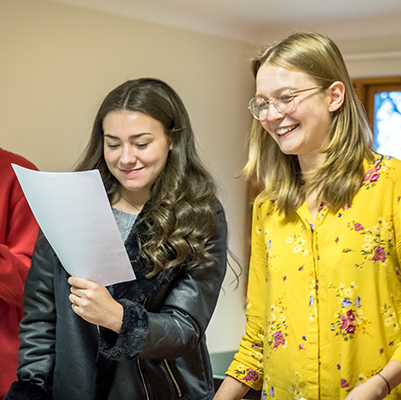 Support us
As a charity, we are reliant on the generosity of others to continue providing our impactful and life-changing work.