Our trustees come from varied backgrounds to provide us with outstanding strategic guidance.
Dr Richard Barnes (Chair)
Richard was brought up on a council estate in Cambridge and educated under the old direct grant system at the Perse School. He studied natural sciences for medicine at Cambridge and then, by a series of serendipitous events, ended up as a University Lecturer in Physiology at Cambridge. In Cambridge his main educational interest, apart from lecturing, has been in facilitating access and outreach work, both through his college (Emmanuel) and the university. He has participated in masterclasses, particularly in South Yorkshire, which is one of his college's link areas, and has run many summer schools for the university.
He says: "I am struck by the observation that the summer schools are too little and too late, and I look forward to working with Villiers Park Educational Trust, which seeks to raise expectations and capabilities before irreversible educational paths have been followed and low expectations have been set."
Adrian Ball
Since qualifying as a PE teacher in 2003 Adrian has always worked in schools located in areas of high socio-economic deprivation. Through a variety of different roles, as Vice Principal, Principal, and Executive Principal he has been part of a number of turnaround successes - most notably as Principal of Thetford Academy where he led the school out of special measures to its first Good rating with leadership recognised as Outstanding, in just 15 months. It was at Thetford Academy where he first became involved with Villiers Park through the participation of a number of his pupils in the
Scholars Programme
, a relationship that is still maintained today.
Adrian is now the Chief Operating Officer for the Inspiration Trust; a multi-academy trust of 14 schools across Norfolk and North Suffolk, where he is responsible for the delivery of an effective operating model to ensure the educational objectives of the Trust are achieved.
Adrian is also a member of the Norwich Opportunity Area Partnership Board, chairing the Teaching & Attainment committee, which is part of a national Department for Education strategy to improve social mobility through education in the areas of most need and has spoken on this subject, amongst others, to colleagues within the education sector.
Professor Sir Les Ebdon
Professor Sir Les Ebdon, who received a knighthood in the Queen's Birthday Honours List for 'his services to higher education and social mobility', is the former Director of the Office for Fair Access. He stepped down from the role ahead of its merger with the Higher Education Funding Council for England into the Office for Students.
During his tenure, Professor Ebdon had a major impact on encouraging universities to think more carefully about their role in fostering widening participation from under-represented groups - and his achievements have been considerable. Universities now spend more than £800million of their fee income on boosting the number of students from a disadvantaged background embarking on a degree and the participation of these students has been steadily increasing during his time in post.
A chemist by training, Professor Sir Leslie Ebdon secured his PhD from Imperial College in 1971 and went on to lecture at universities including Sheffield City Polytechnic (now Sheffield Hallam University) and Plymouth University, where he rose to deputy vice-chancellor ahead of his move to the newly formed University of Bedfordshire in 2006. He was appointed CBE for his services to higher education in 2008.
Lynn Gradwell
Lynn has been both an operational and strategic leader in children's services for 36 years; having experience in social care, health and adult education, with a good understanding of the operating context for the statutory, voluntary, community and independent sectors.
Lynn currently works as the Director of the London Region at Barnardo's, with responsibility for 445 staff and 190 volunteers. She is involved in generating new business and delivering quality services which include: sexual exploitation, disability, children's rights, family support, trafficking and education for children and families through leading the region, developing a growth strategy and contributing to tender/commissioning solutions for children's services.
Over her career Lynn has developed and delivered a range of services including family support and parenting, youth work, youth justice (IFS), child protection, leaving care, family based services, community short breaks and palliative care.
Lynn is extremely passionate about safeguarding of children and young people, ensuring the voices of children, young people, and their families are heard. She feels strongly about social mobility and how it is possible to transcend the most vulnerable people, like care leavers or young carers, to achieve their potential.
Interests outside of work include: theatre and music, reading and socialising with friends, walking and yoga.
Dr Ian McEwan
After completing a degree in engineering, Ian conducted research on computer aided design for his PhD. During this time he also lived and studied in Japan for a year.
On leaving University he joined Unilever on their internal MBA type programme where he also qualified as a management accountant. While with Unilever Ian had seven different jobs on four different sites around Europe, which ultimately led to him being on the management team of a business turning over £200m per annum and living in Maastricht in the Netherlands.
After leaving Unilever Ian settled in Cambridge where he has held four different chief financial officer roles in which he has been responsible for all aspects of finance, human resources, facilities management, internal IT Systems, for diverse businesses in software, internet content, electronic hardware and also a European government policy charity.
For the past few years Ian has been a trustee for a variety of educational charities including Villiers Park Educational Trust, Eastern Leadership Centre and the University of Cambridge Primary School. Currently Ian is running an education business focused on providing catch-up, extension and extended curriculum opportunities outside school core hours, at schools around Cambridgeshire.
Tamara Sword
Tamara is the founding director of TRM&C Ltd - a business that provides strategic marketing support to high-growth, high-tech companies.
Tamara's previous role was head of marketing at augmented reality start-up Aurasma - now an HP company. A founding member of the team, she launched the platform globally in 2011, taking it to over 15,000 commercial partners and five million users in two years.
Before Aurasma, Tamara led marketing at venture-backed Light Blue Optics and prior to that, led marketing and communications at a $100 million joint venture between the University of Cambridge and the Massachusetts Institute of Technology (MIT).
Tamara started her career working in advertising for Saatchi & Saatchi and has degrees from King's College London and the University of Oxford. Tamara has presented at conferences around the world and writes for The Huffington Post about technology, marketing and the way we live. She was recently voted one of the most influential individuals in mobile by readers of The Drum magazine.
John Tizard
John is an independent strategic adviser and commentator on public policy, public services, the voluntary and community sector working with organisations from the public, business, voluntary and community and trade union sectors as well as think tanks and academic institutions. He regularly advises, writes and speaks on these and related subjects including governance and leadership in the UK and internationally.
John is currently a trustee and non-executive director of a number of charities and social businesses. He chairs NAVCA, the National Association for Voluntary Community Action, Action Space, an arts charity for people with learning disabilities in London, b-side CIC, which is a community arts organisation in Dorset.
John has been a senior executive in the charity and corporate sectors, and is a former county councillor and leader, and has held other NED roles in the public sector. John has chaired a number of school governing bodies.
He has been an evaluator for the European Public Services Awards in 2013, 2015 and 2017.
He is an economic and mathematics graduate of the London School of Economics; and has been an Honorary Senior Fellow at the University of Birmingham and a Visiting Fellow at London South Bank and Kingston Universities. He is a Fellow of the RSA.
Our Impact
We work with 2,000 young people a year, empowering them to succeed. View our latest stats and learn about the impact of our work.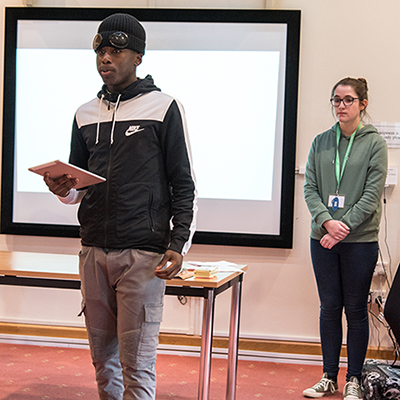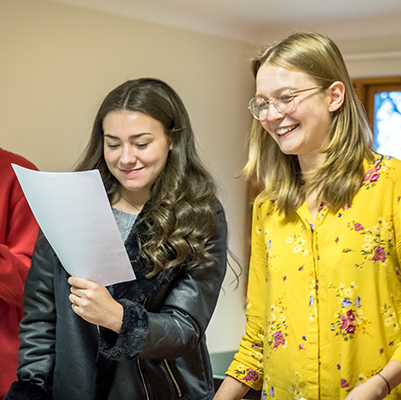 Support us
As a charity, we are reliant on the generosity of others to continue providing our impactful and life-changing work.